Freematics Hub is a telematics server software which receives data from telematics devices like Freematics ONE+ and allows user applications to easily obtain the live and history data from the devices with common REST APIs. Freematics Hub is highly efficient and portable so that it can be deployed on all types of computers, whether cloud server, desktop PC, or even Raspberry Pi.
Benefits of using Freematics Hub
Pre-developed Arduino sketch for telematics devices
Proved stable data communication between telemetics device and Freematics Hub
Minimizing data transfer (saving cost) and data latency by using high efficiency UDP based protocol
No need for client's application to maintain connection and synchronization with telematics device
Access to live and history telemetry data by simple REST APIs over HTTP/HTTPS
All received data from devices logged in organized local files
Remote command queue support, sending commands to device or remotely querying data
API
Freematics Hub implements a set of REST API for sending data to or receiving data from Freematics Hub. The GUI itself is completely built with the API. For more information, please refer to Freematics Hub API Reference.
Freematics Hub Personal Edition
Freematics Hub Personal Edition is a Windows application with a GUI for evaluation of the concept of Freematics Hub.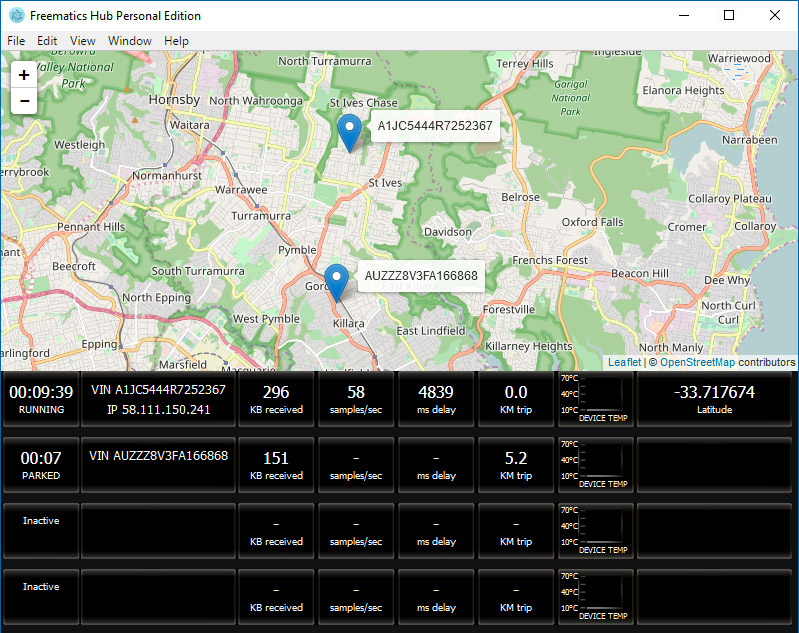 Freematics Hub running on Windows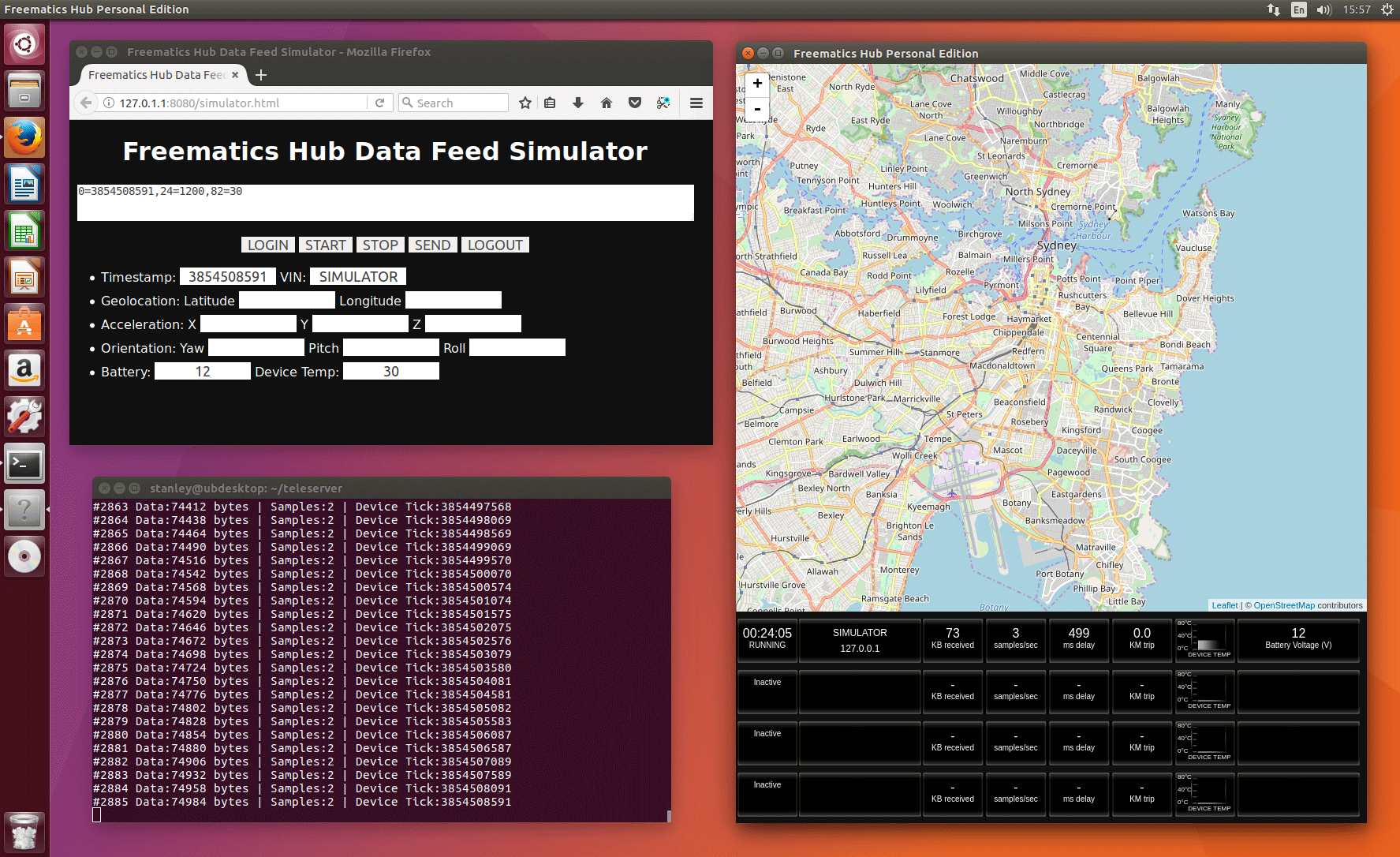 Freematics Hub running on Ubuntu Linux
Freematics Hub Personal Edition has a local GUI showing the information of all telematics devices which are feeding data. More detailed real-time data can be viewed by a web-based UI. To see it, open the URL displayed in the console, or click on the VIN in the device list from the GUI when it appears.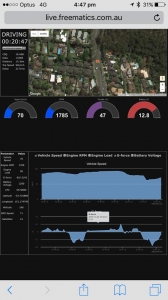 Freematics Hub Personal Edition stores all received data locally in separate files (by session) in separate sub-directories (by vehicle ID). On Windows, the default data directory is %APPDATA%\FreematicsHub\Data. On Linux, the default data directory is Data in the executable directory.
Freematics Hub Personal Edition can be launched from command line with arguments for configuration.
Usage: freematicshub
 -h : display this help screen
 -p : specifiy http port [default 8080]
 -u : specifiy udp port [default 8081]
 -l : specify log file directory
 -d : specify data file directory
 -m : specifiy max clients [default 32]
 -M : specifiy max clients per IP
 -s : specifiy download speed limit in KB/s [default: none]
 -n : specifiy HTTP authentication user name for remote access [default: admin]
 -w : specifiy HTTP authentication password for remote access
 -g : do not launch GUI
Download
Download Freematics Hub Personal Edition for Raspberry Pi (coming soon)
Installation
On Windows, Freematics Hub Personal Edition can be installed by the installer which is very straight-forward. After installed, click on desktop icon to launch the server. UI window will be launched afterwards if UI engine is selected during installation.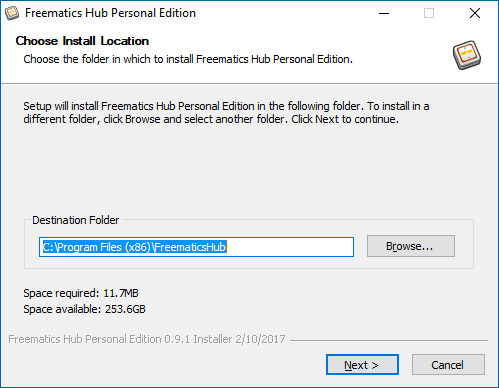 On Linux, please refer to the following instruction. The script run.sh is used to start server and UI together.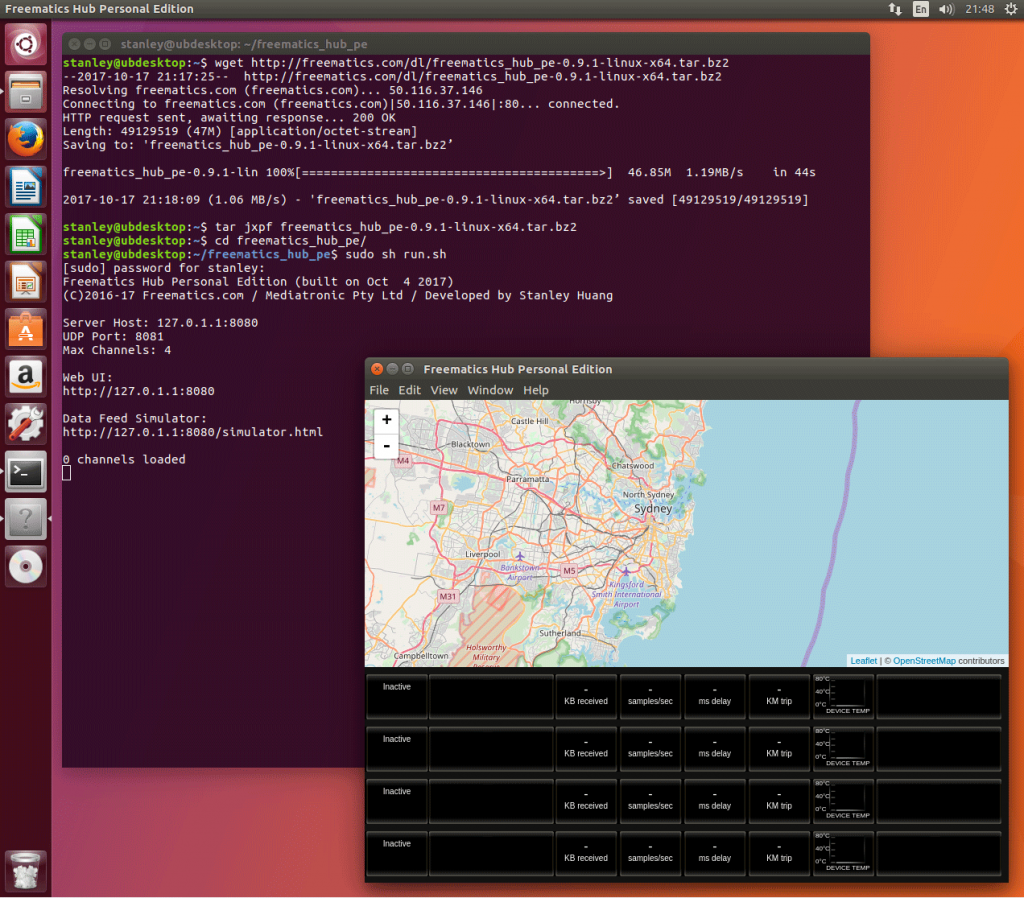 Demo/Reference Client
Telelogger is the reference client implementation that works with Freematics Hub. It is in form of several Arduino sketches for Freematics ONE and Freematics ONE+.
Freematics ONE
Freematics ONE+
In-browser Simulator
In case you don't have any Freematics device in hand, a Javascript simulator is developed for testing Freematics Hub with mobile devices like smartphones or tablets. It obtains geo-location and motion sensor data from the mobile device running it and send the data to Freematics Hub. The simulator is included in the Freematics Hub server package and shall be opened from the Freematics Hub server host due to same-origin restriction of common web browsers.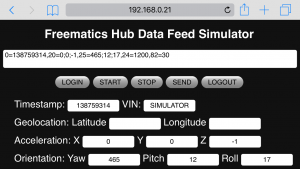 Freematics Hub for Business
Freematics Hub Personal Edition is a freeware which requires no licence for evaluation and non-commercial use. It has a limit of receiving data from up to 4 vehicles simultaneously. For commercial use for receiving data from more vehicles, we provide two solutions.
Freematics Hub Server License
A server edition of Freematics Hub can be licensed for unlimited deployment on customer's servers, with an one-off license cost. Remote technical support for integration is included. Server customization can be provided. The cost of the license starts from only $999 per system including remote technical support for deployment.
Freematics Hub Cloud Hosting
We host Freematics Hub as service on our servers which receives and stores customer data and provide remote API access (with HTTP authentication). The service is provided in subscription mode. This is an easy solution to get started and scaled up later. The service can be subscribed right here.
The subscription can be upgraded or terminated at anytime. Once the subscription is set up, customer will receive an email containing the credentials (server key, server IP and data port) for using the service. Please allow 1-2 hours for the service to be set up during AEST working hours before the credentials are emailed.
For any inquiries, plan upgrade, please contact us by Live Help (Start Chat). To terminate a subscription, you can either contact us or conduct through your PayPal portal at any time.
Links