Freematics ONE (aka Freematics Vehicle Data Logger V4) is our state-of-the-art vehicle telematics data collector, adapter, logger and transmitter which evolves from our past 3 generations of Freematics Vehicle Data Logger.
Freematics ONE, like its predecessors, comes in the form of a OBD-II dongle which plugs into a car's OBD-II port. The enclosure is newly designed with sockets and card slots for various purposes around it. We improved our original 32-bit OBD-II telematics solution, which has been proven in our previous OBD-II products, with better support for high data rate GPS and additional support for wireless network modules.
Features
Based on the OBD-II solution from Freematics OBD-II Adapters
Programmable as an Arduino UNO
Access to all standard OBD-II PIDs
Reading and clearing trouble code (DTC)

Measuring G-force with accelerometer

Measuring car battery voltage with built-in voltmeter

High update rate GPS positioning (by external GPS receiver)

Storing data on microSD card (up to 32GB)
Exchanging data with or being controlled by iOS and Android devices wirelessly through BLE
Transmitting data to cloud by WIFI or cellular network
Low power mode @10mA
Hardware Facts
Specifications
ATmega328p main controller, 100% compatible with Arduino UNO
STM32 based OBD-II solution (CAN BUS, K-line, NMEA parsing) on SPI
CC2541 BLE module
MPU-6050 or MPU-9250 MEMS

Self-popping microSD slot
Built-in xBee socket for exchangeable wireless communication modules (GSM, WIFI, xBee)
SIM800L GSM/GPRS module with self-popping micro SIM socket (optional)
ESP8266 WIFI module (optional)
External GPS receiver

Enclosure dimensions: 60x48x20mm
Physical Interfaces
OBD-II male connector
microUSB port
microSD card slot
SIM card slot (if cellular module is present)
GPS connector (Molex)
xBee socket (inside, 5V or 3.3V VCC)
BLE Module

Freematics ONE has built-in TI CC2541 based BLE module hooked on the hardware serial of ATMega328p.
BLE USB Dongle
BLE USB Dongle gives computer BLE connectivity. When the dongle is plugged in, a serial port will appear on computer while it automatically pairs with nearby Freematics ONE device and establish transparent serial communication wirelessly through BLE.
OBD Compatibility
Freematics ONE plugs into the OBD port usually located under the steering column or slightly to the left of it. To check if your vehicle is OBD-II certified, open your hood and find the sticker that looks like this: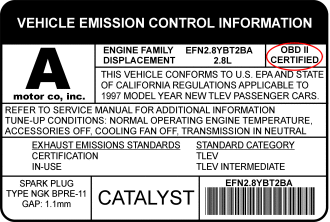 Vehicles using following vehicle protocols are supported.
CAN 500Kbps/29bit
CAN 250Kbps/29bit
KWP2000 Fast
KWP2000 5Kbps
GPS
Freematics ONE supports high update rate geographic positioning with an external GPS receiver. The GPS connector is a Molex 4-pin connector. The GPS receiver has a 1.5m long cable and is intended to placed on top of car dashboard for optimum GPS signal reception.

xBee Socket
Freematics ONE has an xBee socket inside the enclosure which provides the possibility to extend its wireless communication capability with various xBee module. A ESP8266 WIFI bee adds WIFI connectivity (see this). A SIM800L GSM/GPRS bee adds cellular network support.
We provide option of pre-loading selected network module with order of Freematics ONE. Of course you can plug in your own module afterwards. However, due to limited internal space, not all xBee modules in the market may fit the enclosure. Please also note that when SIML800L module is chosen to include, the xBee VCC will be configured to 5V. Otherwise, it is configured to standard 3.3V.
GSM Antenna
When SIM800L xBee module included, Freematics ONE comes with built-in GSM Antenna. To boost GSM signal reception, we provide optional external GSM antenna. With this chosen, an additional SMA connector will be present on the enclosure (next to the GPS port) which an external GSM Antenna can be attached to. In areas with poor GSM signal coverage, the external antenna can boost the signal by up to 10dB.
Low-Power Mode
Freematics enters and leaves low power mode programmatically. In low power mode with all peripherals (GPS, GSM, WIFI) powered off, the power consumption is around 10mA. This prevents car battery from going flat while the main controller is still able to run code and perform low-power tasks like motion detection by MEMS sensor.
PCB Layout
Following is the PCB layout of Freematics ONE. The schematic is here.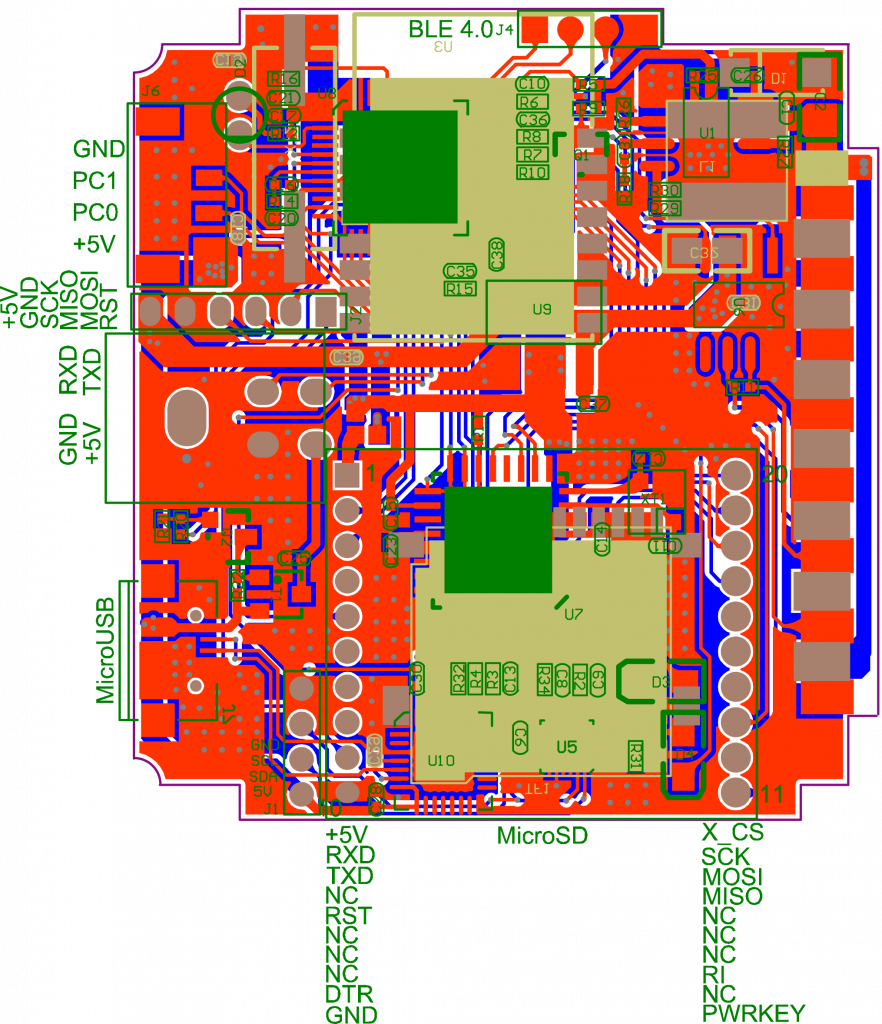 Firmware
Firmware (Arduino sketch) can be uploaded to Freematics ONE exactly the same way as for an Arduino UNO from standard Arduino IDE through USB port. Please refer to the Users Guide for related more information.
Pre-loaded Firmware
A data logger sketch is pre-loaded before shipping, your Freematics ONE will work out-of-box as a vehicle data logger which performs following tasks:
Connect to the vehicle via OBD-II port
Connect to the GPS receiver (if available)
Create a new file on microSD card
Log OBD-II, GPS, MEMS sensor data to the file (file format)
Transmit live OBD-II, GPS, MEMS sensor data via USB and BLE
Comparisons
| | Freematics Vehicle Data Logger V4 (Freematics ONE) | Freematics Vehicle Data Logger V3 | Generic OBD-II Dongle |
| --- | --- | --- | --- |
| Arduino Compliant | Yes | Yes | No |
| User Programmable | Yes (via USB) | Yes (via ICSP) | No |
| Built-in MEMS Sensors | 9-axis MPU-9250 | 6-axis MPU-6050 | No |
| High Update Rate GPS | Yes (up to 10Hz) | Yes (up to 5Hz) | No (or 1Hz only) |
| xBee Module Extension | Yes (GSM, WIFI, xBee etc) | No | No |
| Mass Storage (microSD) | Yes | Yes | Some |
| OBD-II Firmware Upgrade | Yes | No | No |
| iOS Device Connectivity | Yes | Yes | Some |
| Controllers Inter-connection | SPI @ 8Mbps | Serial UART @ 115.2Kbps | N/A |
Shipping List
Freematics ONE x 1
Micro USB cable x 1
M8030 10Hz GPS Receiver x1
Links
Buy Now
Choose network module to include:

* Price displayed in AUD and converted to your native currency when billed.